Partners



Day trips from Cesky Krumlov
Would you like to see what our southern Bohemia region has to offer other than our amazing Český Krumlov?
Travel agency Expedicion offers a series of one-day trip tours through South Bohemia that will take you off the beaten track, where you will experience the 'real' Czech republic with its countryside, little towns and their hidden jewels.
We have designed 3 popular tourist tours in the surroundings of Český Krumlov:
Tour 1: Dívčí Kámen – Holašovice – České Budějovice – Hluboká nad Vltavou
Tour 2: Kleť – Holašovice – České Budějovice – Hluboká nad Vltavou
Tour 3: Vítkův Hrádek – Devil's Wall – Vyšší Brod – Rožmberk nad Vltavou
You can simply choose from one of our tours or we can customize a special trip for you according to your wishes. If you have a couple of places that you'd like to see, contact us and let us make a suggestion to spice up your trip – you won't regret it - there is a lot that southern Bohemia offers!
What to expect...
We always give you suggestions and a helping hand; however, we do not offer guided tours. We realise that every person is individual and that is why we leave all the activities during the whole trip (e.g. guided castle tours, lunch, hike or chairlift etc.) up to your mood, taste and budget. At each location you will be given free time that is long enough to manage either option. You will feel independent and free and will get the chance to mix and mingle with the locals. We will provide you with maps and manuals with descriptions of all the places we go.
Our aim is to help you discover as much as possible within the short time you have but still without any hustle.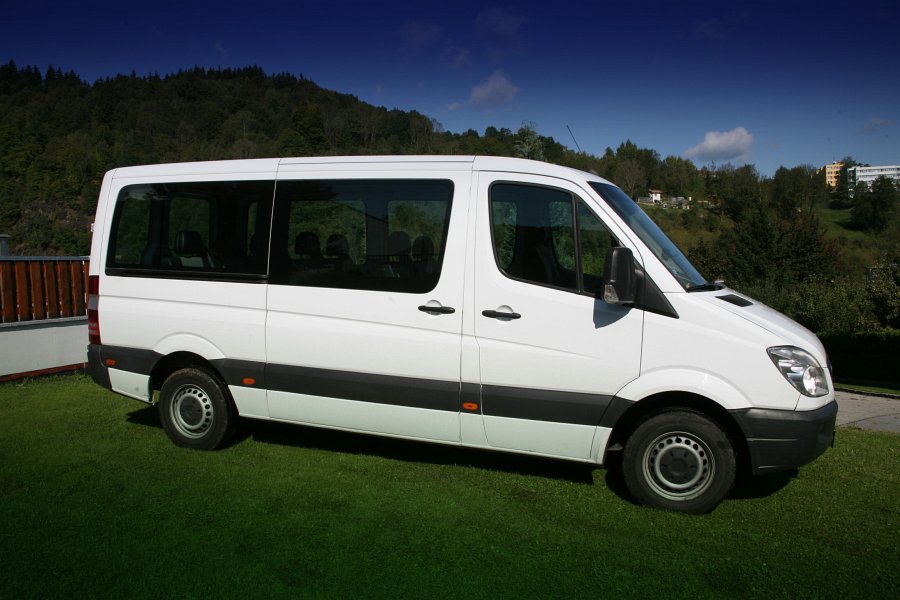 Daytrip to Linz
Visit Linz with us!
Linz is the capital of Upper Austria which is situated on both banks of the Danube, city which definitely has a lot to offer. Hike up the Postlingberg hill with its pilgrimage church on the top and a fairytale cave ride, stroll through the old town and visit the main baroque square that connects to one of the most significent commercial streets of the whole Austria...
Information
Our minibus will pick you up from your hotel at 9:00 am and bring you back to Český Krumlov at 4:00 pm.
We will take you to the main square in Linz where you have a free program and will pick you up there later at 2:30 pm.
Map of historical town centre is included.
The journey takes about 1 hour.
Price: 590 CZK p. person
shuttle bus from Hallstatt to Salzburg, shuttle servis from Salzburg Airport to Hallstatt, cheap shuttle bus from Hallstatt to
Salzburg
, share shuttle from Salzburg to Hallstatt. Shuttle bus from Prague to Salzburg, Shuttle bus from Prague to Hallstatt. Shuttle bus from Hallstatt to Prague, Shuttle bus from Salzburg to Prague, Shuttle bus from Hallstatt to Vienna,Shuttle bus from Salzburg to Vienna, shuttle bus from Prague to Innsbruck, shuttle bus from Innsbruck to Prague, shuttle bus from Salzburg to Innsbruck, Shuttle bus and cheap transfer from Munich Airport to Salzburg,Shuttle bus from Munich to Hallstatt, shuttle bus from Munich to Prague, shuttle bus from Munich to Innsbruck, shuttle bus from Passau to Prague, shuttle bus from Prague to Munich Airport, shuttle bus from Prague Airport to Munich, cheap transfer from Prague Airport to Salzburg Airport, cheap shuttle bus from Prague Airport to Salzburg, cheap transfer from Prague Airport to Hallstatt, cheap transfer from Prague Airport to Innsbruck, Cheap transfer and shuttle servis from Obertraun to Hallstatt, shuttle from Hallstatt to Obertraun, transfer from Munich to Obertraun, shuttle servis from Salzburg to Obertraun, cheap transfer and share shuttle from Obertraun to Salzburg. shuttle bus from Obertraun to Vienna Airport