Partners


Kickbike rental Český Krumlov - downhill ride from Kleť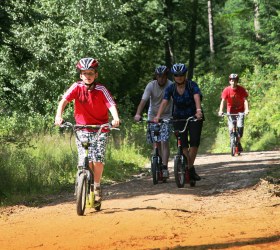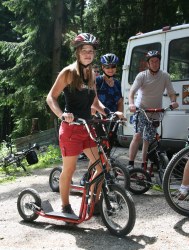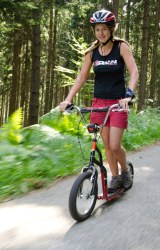 From our agency in the centre of Český Krumlov or from your hotel or guest house (after
a previous agreement – start possible any time), we will get you with our minibus to the very
top of Kleť Mountain (3,556 ft / 1,084 m). After a short briefing, introduction of the route
and handing out the necessary bike helmets a a downhill ride across the protected
landscape area Blanský les awaits you. You can take a pleasure in the view
from the oldest stone lookout tower in the Czech Republic towards the Austrian Alps massif just before the ride itself.
You can also admire almost 600 ft (180 m) high broadcaster and refresh in adjacent timbered
cottage Tereziina chata dating back to 1925. Following 5,3 miles (8,5 km) downhill ride
takes you over 2,000 altitude ft (614 m) lower! The faster ones usually arrive to our agency
in Český Krumlov (1,542 ft / 470 m) before the escort minibus does. However, we do recommend
to stop a few times and admire the beautiful atmosphere of Blanský les and views of Český
Krumlov and its surroundings showing through full-grown beech trees.
Routing (GPS)
Kleť - (GPS- loc: 48°51'55.078''N, 14°17'3.611''E) on a cycling route No.1166 k Modrý obraz (GPS- loc: 48°50'45.382''N, 14°18'32.45''E), then cycling route No.1169 to Český Krumlov - Soukenická street 33 (GPS - Loc: 48°48'37.519"N, 14°18'50.585"E).
Price: 290 CZK / person (including minibus transfer to Kleť(people + kicbike), bike helmet, route map)
Price: 170 CZK / person (without transfer passengers to Kleť (only kicbike), bike helmet, route map)