Partners



yRaft and boat rental – Vltava river, Cesky Krumlov, Sport service - Rafting - Canoing - Kayaking

Raft and boat rental Cesky Krumlov – one day trips (Rafts, canoes on Vltava river)
TRIP/ROUTE
Lenght (km)
Duration
Price per person with transfer to start and from finish
Kayak 1 OS.
Canoe 2-3 pers.
RAFT 2-3 pers.
RAFT 4-6 Pers.
TIP
Český Krumlov – Český Krumlov
5
1,5
500,-
300,-
300,-
240,-
TIP
Větřní – Český Krumlov
8
2-3
800,-
400,-
400,-
340,-
TIP
Český Krumlov – Zlatá Koruna
15
3-4
1000,-
540,-
540,-
450,-
Český Krumlov – Boršov n. Vlt.
32
6-8
1500,-
800,-
800,-
600,-
Zátoň – Český Krumlov
17
4-5
1000,-
540,-
540,-
450,-
Rožmberk – Český Krumlov
25
5-8
1400,-
700,-
500,-
500,-
Vyšší Brod – Český Krumlov
35
8-10
1600,-
800,-
800,-
600,-
The above prices are 

for whole raft

or boat (1-6 persons)
Price includes all necessary equipment: raft/boat rental, paddles, life jacket, dry bags and maps so you can keep track of how fast you are going and what pubs are along the way not to miss!!!
Price includes transportation - we use large and comfortable shuttles to move you back to your original destination.
We rent these rafts and boats - canoes: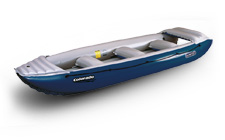 Raft Gumotex Colorado (6 pers.)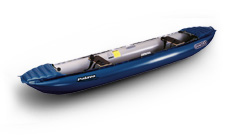 Raft Gumotex Pálava (2 pers.)


Durable plastic canoe Vydra
Raft and boat rental Cesky Krumlov – multiple days trips on Vltava river
| Boat | Price |
| --- | --- |
| Raft for 2, 3, 4, 5 , 6 people | 190 CZK / person / day |
| Canoe for 2 p. | 190 Kč / person / day |
The price assumes full boat/raft. You'll have to pay for unused seats.
Single rodeo kayak per 400 CZK p. day
Included in price
rental of a raft/boat (boat for 2 people, rafts for 2, 3, 4 and 6 people)
paddle and barrel for keeping your things dry
Many people want to go rafting with us in the high season, so rather book your great rafting trip now! You can send email to  This e-mail address is being protected from spambots. You need JavaScript enabled to view it or call +420 773983678 (whatsapp - anytime:)
Rafting Vltava - photo gallery
Night rafting on Vltava river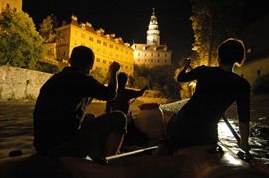 Feel the romance, when you're alone and quietly float on the water, seeing illuminated castle and town of Cesky Krumlov.
When: around 9 p.m.
How much: 350 CZK/person - equipment & guide included
And now for something completely different...
Well, not so much... We ourselves are rafters and we love the Vltava river. You can see what we mean in this 7 minutes long movie 


P.S.: 5th minute is worth seeing.. But don't worry, this is in winter and not on the Vltava river.
Let's go rafting with us and experience great adventure and beauty of the Vltava river!
Cell phone: +420 773983678 (whatsapp:)
E-mail:  This e-mail address is being protected from spambots. You need JavaScript enabled to view it
We are looking forward to seeing you. Ahoy!
Rafting in Bosnia and Herzegovina - Neretva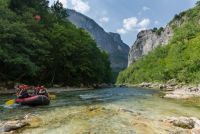 If you ever visit Bosnia and Herzegovina during your travels through central or eastern parts of Europe, we recommend rafting on the Neretva River. You can experience white water rapids, water so clean that you can drink from it, jumping from cliffs and more fun even for children. Agency Neretva Rafting.com can make everything happen in their whole day long rafting package including barbeque. Some people from our team did this and they were really excited.
Expedicion -Vltava Sport Service Cesky Krumlov - rafts, boats, canoes, bikes, kickbikes, outdoor activities, paintball Cesky Krumlov